Company profile
Company profile
Design and implementation of investment projects with demanding technologies and cleanrooms.
Since 1991, we have been implementing investment projects with a focus on advanced technology and cleanrooms. We are partner companies BLOCK a BLOCK CRS which are a part of a big international group of BLOCK® companies. The BLOCK company focuses on design and development activities, service and validation. The BLOCK CRS company focuses on supplies and implementations of investment projects and engineering services. Together we have a strong and experienced team of technicians, technologists and engineers for the management and implementation of these investment projects.
We offer our customers complex services in project development, production, construction and subsequent service. Our solutions guarantee the optimization of investment and operating costs and place an emphasis on rigorous environmental protection. We implement projects for pharmaceutics and biotechnology, healthcare, science and research, microelectronics, optics, automotive and other industrial buildings with clean rooms.
BLOCK – Design, Service and Validation
BLOCK CRS – Implementation of Investment Projects, Engineering Services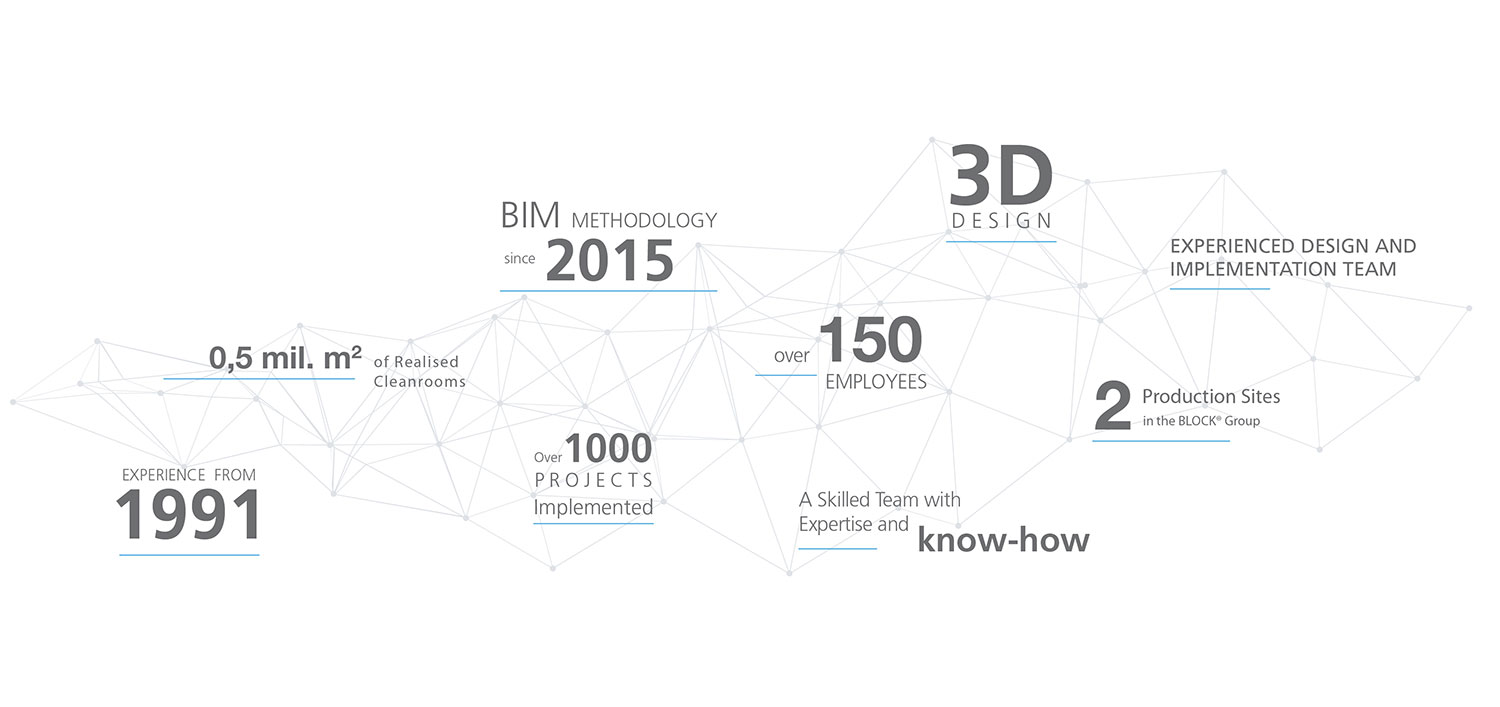 We provide implementations on a turnkey basis in the areas
We are a menber of the BLOCK® Group
The BLOCK® Group brings together companies focusing their complex services, projects and sophisticated deliveries mainly into the clean rooms field. These are especially complete deliveries of investment projects, deliveries of technological units and products to the pharmaceutical and healthcare sectors, and the development of SW for measurement and regulation. At the customer's request, all deliveries are then validated according to good manufacturing practice (GMP) by a group of our own validation engineers. Warranty and post-warranty support service provided by our own trained technicians then goes without saying for the BLOCK® Group.
The fundamental building block of the whole group became the BLOCK company that was founded in 1991. The other companies from the group gradually followed. Thanks to partnership and cordial relationships within the group, we are able to offer our customers a wide range of solutions and services.
---
Corporate Identity
"Creating conditions"
To create conditions to turn your visions into reality as a dependable partner.
"Perfect results need perfect conditions"
We know that perfect results require perfect conditions, so it is our aim to give you the perfect working environment and conditions, upon which you can rely fully, and that will enable you to focus solely on your important work.
STRATEGIC GOAL AND MISSION
Our strategic goal is the long-term sustainable development of the BLOCK®. The attainment of this goal begins with the fulfilment of our mission, which is at the heart of why we exist:
"To create conditions to turn your visions into reality as a dependable partner."
VISION
Our vision is represented as a path along which all future steps are taken in order to achieve long-term sustainable development:
To be the first choice for our customers right from the beginning as they develop their projects.
To be creative in maintaining effective processes.
To be an inspiration in the milieu in which we work, to be a builder of success.
The BLOCK® trademark is grounded in the promotion of a responsible approach to the environment.
RECOGNIZED VALUES
On the road to long-term sustainable development, our values point the direction and help us make the correct decisions in each step of the way. BLOCK® values are:
Responsibility
Reliability
Expertise
Loyalty
QUALITY POLICY
Our main goal is the satisfaction of our customers.
The company puts emphasis on the process of continuous education of its employees who consequently provide value-added service to our customers.
We continuously improve the efficiency of our processes.
We provide solutions to our customers in line with present trends e.g. 3D projecting or building information modeling (BIM).
We deliberately provide our services to European standards of quality.
ENVIRONMENTAL PROTECTION POLICY
The activities of BLOCK® do not have significant negative effects on the environment.
The activities of BLOCK® and the implementations of its projects shall adhere to the following principles:
Comply with all applicable legislated provisions, i.e. laws, decrees and regulations related to environmental protection. We apply these requirements in all operations of the company.
Maintain and improve processes related to environmental protection.
Assure preventive measures are in place to minimize possible environmental impacts.
Maintain and update elaborated emergency plans.
Inform the public and our staff about programs undertaken and goals achieved in environmental protection. This is carried out on the web.
POLICY OF OCCUPATIONAL HEALTH AND SAFETY
We comply with all applicable legislated provisions, i.e. the laws, decrees and regulations related to occupational health and safety. We apply these provisions in all spheres of our company's activities.
We continuously improve processes related to OHS.
We teach employees both to adhere to, and to enforce, the obligations set forth in this policy.
---
History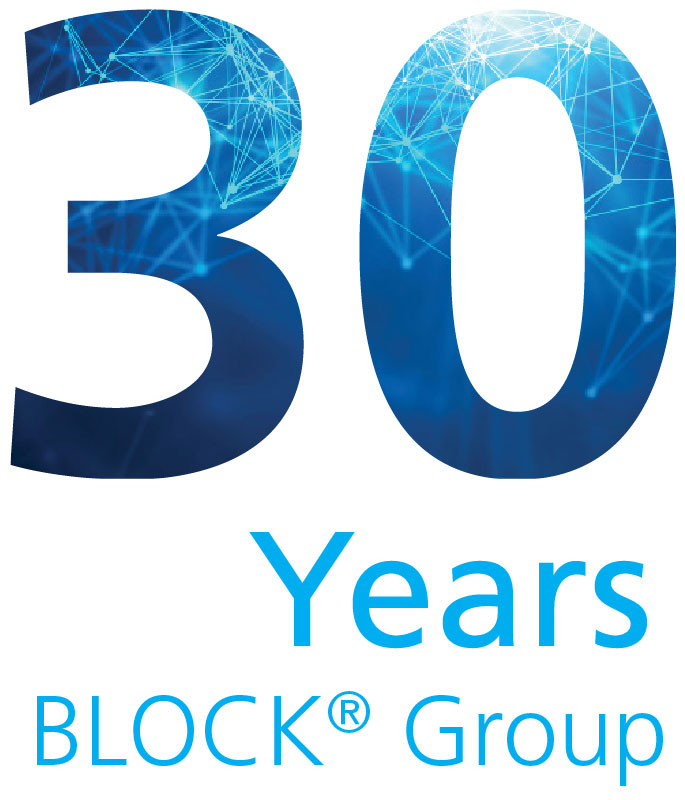 ---
Certifications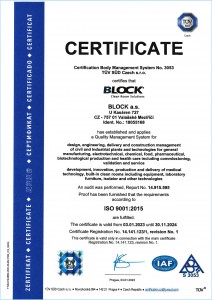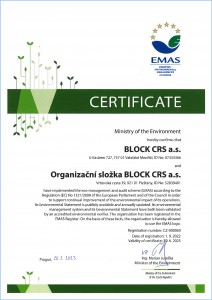 EMAS (Eco Management and Audit Scheme)
Verified environmental management
Over and above the ISO 14001 certification, the company BLOCK CRS a.s. and its organizational component in Slovakia, are also holders of voluntary EMAS certification from 2022.
EMAS (Eco Management and Audit Scheme) is a voluntary environmental protection instrument created by the European Union to control and monitor the management and environmental impact of organisations' activities and to publish information in the form of environmental statements.
The EMAS system is one of the ways in which an organisation can proceed with the implementation of an environmental management system – EMS. EMS means a systematic approach to environmental protection in all aspects of business through which a company integrates environmental care into its business strategy and day-to-day operations. EMS is an integral part of the management system of the entire enterprise and concerns the organizational structure, methods of division of responsibilities, technological procedures, processes, resources for establishing and implementing environmental policy. The EMS is primarily aimed at protecting (reducing the consumption of) natural resources, reducing the amount of waste and pollutants, reducing the risk of environmental accidents, protecting the health of workers and inhabitants and, last but not least, sustainable economic growth of the enterprise.
EMAS represents a proactive approach by the company to monitor, manage and progressively reduce the negative environmental impacts of the organisation's activities above and beyond the legislative requirements. It is intended for both manufacturing enterprises and organisations operating in the private sphere, as well as for state and public administration organisations or parts thereof. The condition for participation in EMAS is certification by a third independent party.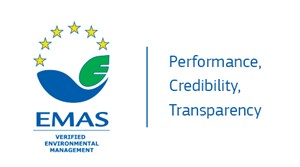 Certificate Ministry of the Environment Czech republic EMAS – Download PDF ˃
Certificate of registration EMAS – Slovak environment egency – Download PDF ˃


---

Prohlášení o činnostech environmentálního ověřovatele, č. EMAS - 1476-1, ze dne 16.8.2022 - Download PDF in Czech ˃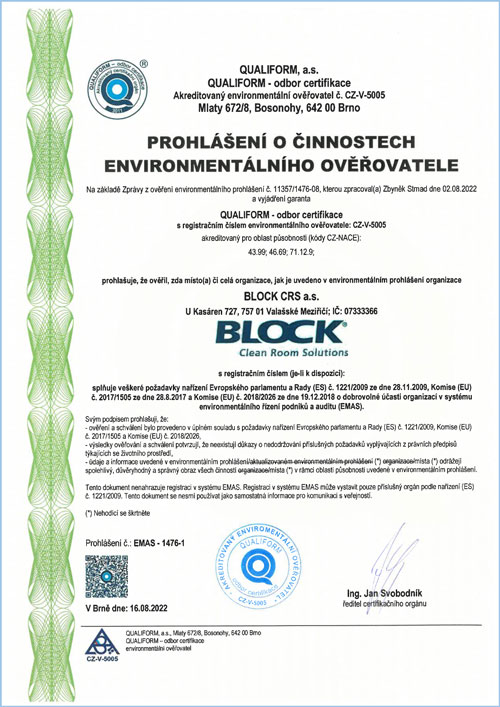 Environmentální prohlášení 2022 - Download PDF in Czech ˃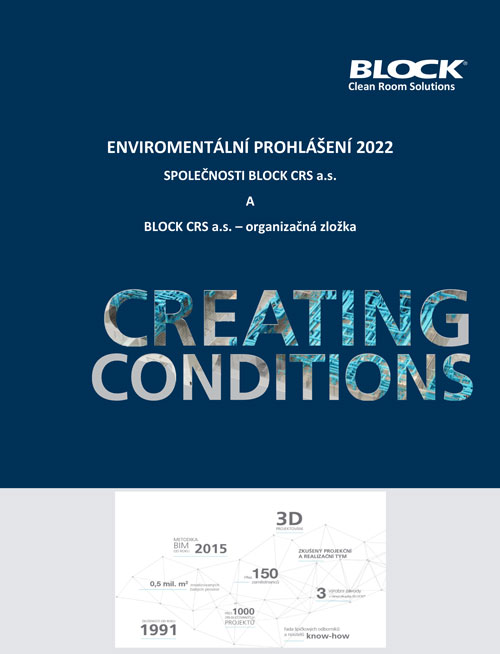 ---

Prohlášení o činnostech environmentálního ověřovatele, č. EMAS - 1476-2, ze dne 29.6.2023 - PDF ke stažení zde ˃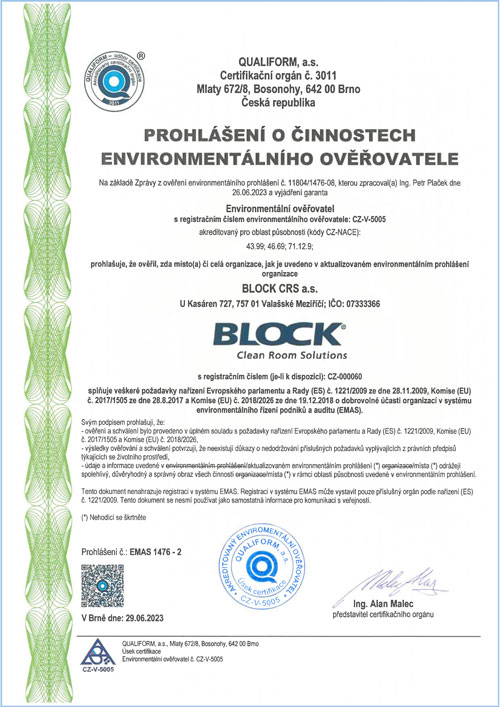 Environmentální prohlášení 2023 - CZ - PDF ke stažení zde ˃
Environmentálne prehlásenie 2023 - SK - PDF ke stažení zde ˃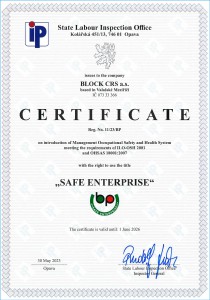 SAFE ENTERPRISE
"A Safe Enterprise Certificate" in line with the requirements of ILO-OSH 2001 and OHSAS 18001:2007.
BLOCK a.s. has held the SAFE ENTERPRISE certificate since 2004; it verifies functionality, transparency and a practical and economically efficient model of safety management at BLOCK in compliance with requirements of EU directives. The Ministry of Labour and Social Affairs of the Czech Republic and the State Labour Inspection Office of the Czech Republic confirm the "Safe Enterprise" programme.
The Safe Enterprise programme is founded in the policy that a sound work site is an integral part of the quality management of every successful company. Meeting the programme's requirements both contributes to a higher level of labour risk prevention as well as to a higher culture of safety at work, better amenity of work and higher productivity of labour.
Registration number 11/23/BP, valid until 1.6.2026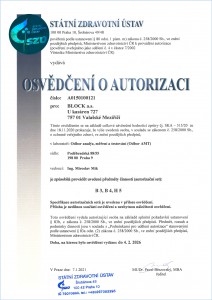 CERTIFICATE IN AUTHORIZATION – ANALYSES, MEASUREMENTS AND TESTING DEPARTMENT (AMT)
On the basis of a special and QMS audit and being an authorized laboratory in the field of public health, BLOCK's Department of Analyses, Measurements and Testing has obtained the prolonged CERTIFICATE IN AUTHORIZATION in compliance with the Statute No. 258/2000 Coll. (Statute on protection of public health). BLOCK has maintained this certificate since 2009.
The certificate is issued by the National Institute of Public Health in Prague, which is entrusted by the Ministry of Health to perform the authorizations. The AMT Department is a laboratory qualified to perform activities to the extent as specified by the below authorization sets:
B3 - Measurement of filamentous dust and purity classes of indoor environments of structures
B4 - Investigation and measurement of microclimatic parameters in indoor environments of structures
H5 - Investigation and measurement of microclimatic parameters in working environments
Our Certificate in Authorization, number A0150100121, is valid until 4 February 2026.
Certificates relating to specific products are included in the e-catalog under product documentation.
Certificates relating to specific materials are contained in the e-catalog under documentation of products in which the given material has been used.
---