The modular configuration of a hospital consists of individual modules (containers) that are mutually interconnected. Assembly is performed by means of a crane. Used are typified modules, however, atypical modules are also possible.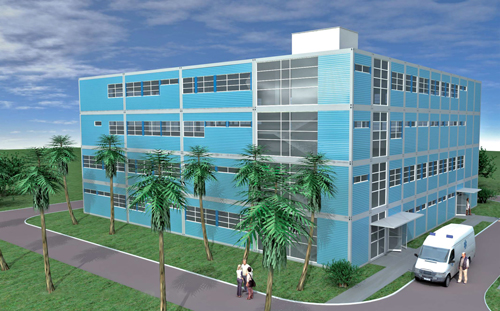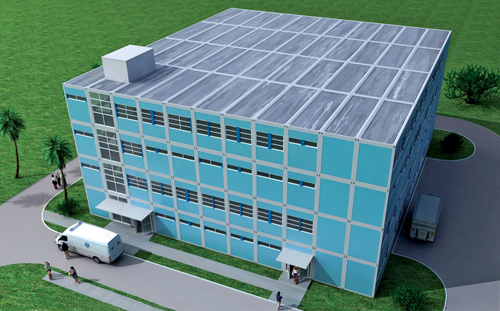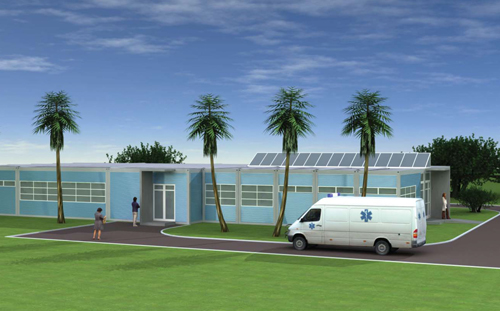 Types of individual modules
Operating theaters
Intensive care units
Urgent reception and diagnostics
Central sterilization
X-ray facility
Bed section
Entrance premises, changing rooms, back-office
Basic characteristics
Self-supporting steel containers (welded, 5 mm thick material), dimensions 6 x 2.5 x 3.3 m, with flat roof covered by metal sheet, with surface treatment and insulation about 120 mm thick, and with inside decking, with the bearing capacity 100 kg/m2.
External walls with ready-made facings (surface treated steel or aluminum sheets),
With insulation and inside facing partition).
Floor with the carrying capacity 500 kg/m2 (steel sheet with about 100 mm thick insulation and common floor layer). For other premises (apart from clean rooms) the containers are completed with a system of inside partition walls (for example of metal of plasterboard, with dust-free paint, or provided with electrical heating bodies to warm space), electrical installation, sanitary technology, water mains.
Insulated plastic windows (pharma-type layout, in inside partitions), full, insulated entrance doors of metal, inside doors of wood or metal, full or glazed.
Upon being fitted to separate footings, the containers are fixed one to another and completed with technical equipment and technology. Space between the containers and terrain is covered by perforated sheets.
Indoor premises are fully air-conditioned and selected work sites provided with a three-stage air filtration.
As a standard, medical technologies comply with customer's requirements.
---
Specific layouts
Single-storey hospital variant
1st storey
Urgent reception of patients, entry of personnel and of materials
Operating theatres with sterilization
Intensive care unit, capacity: 9 beds
Two-storey hospital variant
1st storey
Urgent reception of patients, entry of personnel and of materials
Operating theatres with sterilization
Intensive care unit, capacity: 9 beds
2nd storey
Inpatient department, capacity: 30 beds
Four-storey hospital variant
1st storey
Urgent reception of patients, diagnostics, emergency ambulance

2nd storey
Intensive care unit, capacity: 12 beds
3rd storey
Operating theatres + central sterilization
4th storey
Inpatient department, capacity: 30 beds