The isolator combines the protection of the product as well as personnel and constitutes a barrier between the product and the ambient surroundings. These isolators are used in work with sterile toxic substances e.g. sterile cytostatics, hormones or API and HAPI. The operator works with the help of sleeves that prevent contact with the material. An air-conditioning system uses high efficiency HEPA filters to protect the product against possible contamination from the ambient surroundings.
The isolators comply with the leak tightness classes pursuant to ISO 10648-2.
Technical Parameters
Work in an over-pressure atmosphere compared with the ambient surroundings.
HEPA H 14 filtration in the inlet into the isolator.
Laminar air flow of 45 m/s ± 20%.
"A" purity class inside the working chambers (ISO 4.8).
Material of isolator working chambers – AISI 316L (EN 1.4404), polished surface finish with rounded corners.
Material in contact with the product – AISI 316L (EN 1.4404).
Other construction materials – AISI 304, hardened glass, silicone, POM-C, etc.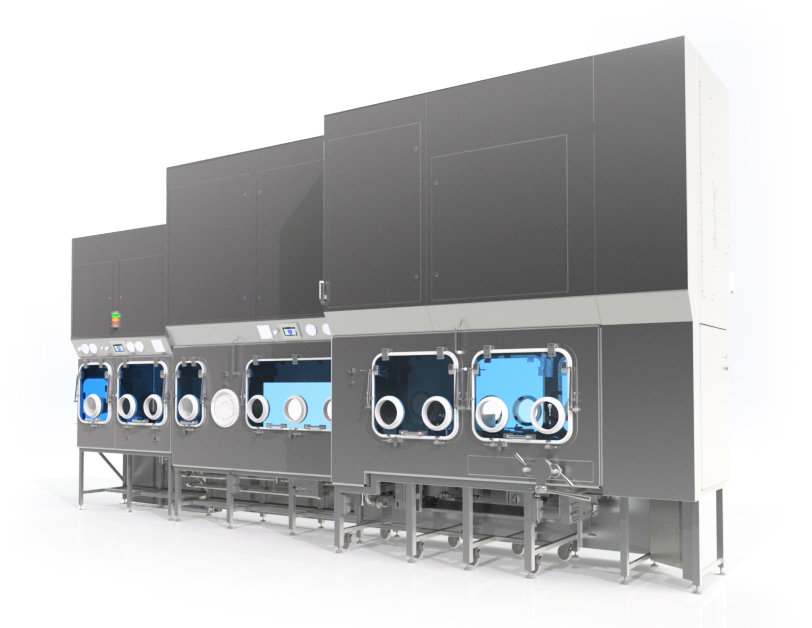 Photogallery